Solwezi AgriExpo
In the heart of Solwezi, Western Province, Zambia Youth Agripreneurs (ZYA) teamed up with IITA to make a big impact at the AgriExpo, hosted by Global Network Solutions. This month-long event offered a platform for ZYA to showcase their innovative agricultural technologies in cassava production and processing, further solidifying their position as industry leaders. At the event, members of ZYA engaged the crowd with their innovative cassava processing and value-addition technologies while sharing their passion and experience in agribusiness.
Beyond the exhibition, ZYA connected with a diverse audience of around 1800 attendees, proving the broad interest in their work and its impact. Additionally, they engaged in productive interactions with stakeholders, including the event host, Global Network Solutions, who showed a keen interest in exploring the growth and innovations in cassava processing and value addition.
Furthermore, the positive feedback and enthusiasm received from attendees and stakeholders reaffirmed the significance of ZYA's work in driving economic growth and improving food security in the region. The Solwezi AgriExpo highlighted ZYA's commitment to sustainable agribusiness and set the stage for exciting collaborations, opening up new paths for development and opportunity.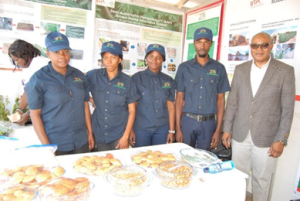 Mkushi Youth Skills Group secures third place at the Provincial Agriculture Show
In Kabwe, Central Province, Zambia, the spotlight was on the youth of Mkushi Youth Skills at the Provincial Agriculture Show. This event was their chance to showcase a wide range of agricultural initiatives, from fish farming to soybean and maize production, cassava processing, and value addition. They shared their experiences as entrepreneurs, emphasizing the vast opportunities in agribusiness, and encouraged their peers to consider agriculture as a career choice.
At the event, Mkushi Youth Skills Group engaged around 2,000 attendees and made a lasting impression. Their organized display and innovative approaches earned them a remarkable third-place win in the provincial agribusiness sector. In addition to demonstrating the profitability of agriculture, their achievements highlighted the potential for youth-led initiatives to drive economic growth in rural communities.