A member of the IITA Youth Agripreneurs in Kalambo has emerged as the winner of the best innovative youth and Project award in South Kivu, Kalambo. The award ceremony, which was part of the women's entrepreneurship fair, recorded a massive turnout of women who were entrepreneurs from all sectors of the economy.
Seven IYA Kalambo agripreneurs who were beneficiaries of the Sustainable Youth MSMEs through Urban Farming (SYMUF) project funded by the Funds for African Private Sector Assistance (FAPA) through the African Development Bank all participated in the competition. After screening and accelerated training by the IYA team and its training partner Congo Service Consulting and Trade (COSECOT) on the aquaculture and soybean value chain, three beneficiaries emerged as top finalists during the competition.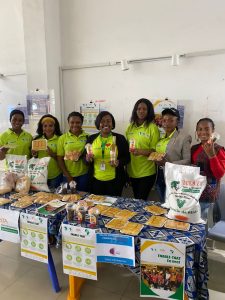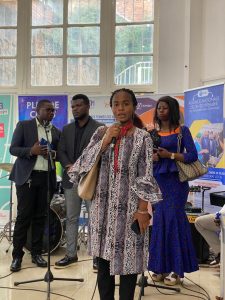 Muriel Mihigo, the coordinator of Kalambo Youth programs and Female youth Agriprenuers displaying their product at the exhibition in Kalambo.
Sarah Nzigire, however, emerged the best; she will receive training on modern agriculture technology, access to the market, and be linked to finance to expand her business.
The fair gathered stakeholders and actors in the agriculture sector who showcased their products and services, networked with industry partners, and examined recent market trends.