Despite the COVID-19 pandemic which affected the learning opportunities for youth globally, The IITA Youth Agripreneurs (IYA) trained over 146 youths in the second year of the Youth Employment in Agribusiness and sustainable Agriculture (YEASA) project using an e-learning platform with contents from the on-site training sessions and materials. http://eduapps.startthemearly.org/
The Youth Employment in Agribusiness and Sustainable Agriculture (YEASA) project aims to build the technical, entrepreneurial, and soft skills of young adults (18-35 years), as a means of improving their productive capacity and increasing their benefits from existing agri-food systems. It is sponsored by the International Fund for Agricultural Development (IFAD) and it is implemented by three Institutions; Afe Babalola University Ado-Ekiti (ABUAD), the grant recipient, and the International Institute of Tropical Agriculture (IITA) and AfricaRice as sub-recipient.
The program which trained over 200 agripreneurs in Nigeria and Benin republic in 2019, will train 1,000 unemployed men and women youths with at least secondary education in Nigeria and the Benin Republic in its 3-year project life cycle with other project partners.
About 10,000 applicants applied for the program through the website www.yeasa.org, successful applicants received a 4 weeks of intensive online training on a range of agricultural commodities such as soybean/cowpea, maize, plantain, cassava, agric-machinery fabrication as well as soft skills like business communication, marketing, emotional intelligence, and business plan development.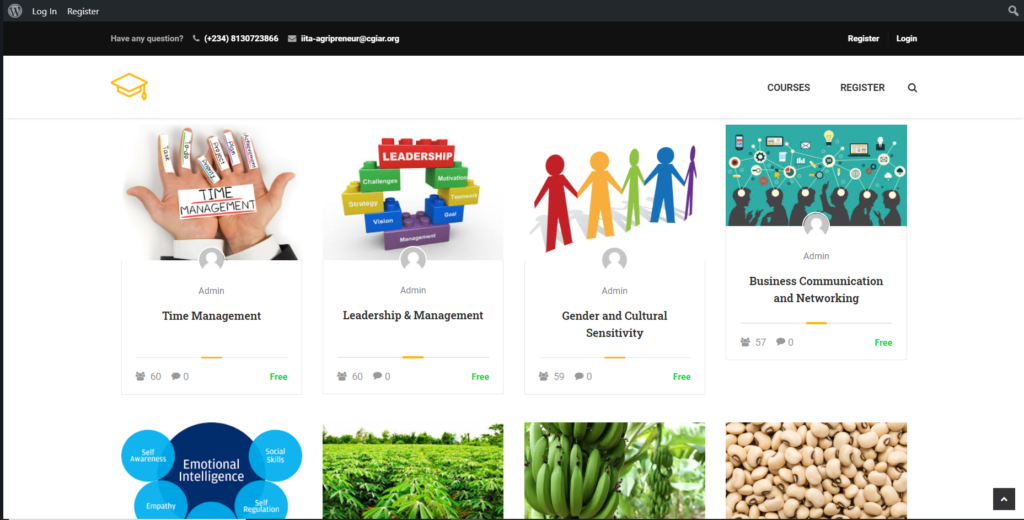 Screenshot of the e-learning platform
We have always appreciated the use of ICT tools in training, but considering Agriculture is a practical science we have always opted for the more conventional approach. COVID_19 has propelled us to utilise the online training approach and so far, it has worked well. This will enable us to reach out to more youths going forward said the IITA-YEASA coordinator, Adunoye Oluyemi.
Trained agripreneurs will be selected based on their performance during the training, including market opportunity, financial understanding, scalability, leadership, and entrepreneurial skill to start their businesses.